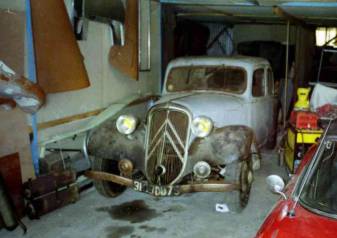 Purchase
The date of purchase is May 20, 1995, through an advertisement in the magazine La Vie de l'Auto.
Before the purchase, I made a visit to the seller in order to verify the conditions of the 7A. Its conditions were as expected: the 7A was complete with original parts, in good conditions, engine not running with the last road-license of 1976; Km on the board were 32.000 but the cable was broken.
Other think very important was that no original parts changed or improved were present.
The only missing thing was very important: the rear cover of spare wheel (that I found later at ICCCR of Clermont Ferrand).
Particular characteristics:
The particular characteristics of the 7A were the following:
- Series Plate: 001030
- Bodyshell Plate: AT 0566
- Engine Plate: BB 00719
- Engine Foundry date: 10.4.34
- Body (inside under the seat): 642
- Paper behind the batch of the rear seat with the indication of the colour "gris perle" AC Z976
- Date of "mise en circulation": May 28, 1934.
- On the right fender, inside (engine side), there is a small cover to cover the hole made for the preseries exhaust (the exhaust with vertical silencer inside the fender)(in my 7A the exhaust is as usual, going straight inside the body); moreover, under the body the positions of the fixations for supports of the exhaust pipe are located exactly for the preseries exhaust pipe. For this reason it is possible to think that the body number n. 642 could be the 642nd body constructed.
- The engine, painted in green, had the gearbox painted in black. The starter and the dinamo were chromed outside.
- The bonnet looked the original bonnet of the 7A but the two front wings open opposite the two rear wings. This is a typical bonnet of the further Traction Avant models (7C) not of the 7A models on that the opening of the front wings is the same as for the rear wings; recently I have found 2 7A with the same opposite openings: one of these 7A has a certified history so that the result is that some 7A were constructed with such bonnet. In my 7A, I converted the opening of the front wings in order to have the bonnet "conforme à l'origine" as on the most 7A.
- In the interior, there was no trace of sun-screen, no holes for the relevant support so that no sun-screen had been provided in the origin.
No other particular characteristic was found on the car.
Additional Parts
To help the friction absorbers, a couple of Houdails were mounted in the front suspensions.
Moreover, in order to improve the strength of the body, on each side, located just before the rear wheels, a reinforcement was installed, made by an L beam inside bolted together an L beam outside!!
In the interior, an additional device (commodo) was mounted on the steering wheel for lights/direction lights.